The Sandman Will Keep You Awake - The Loop
Play Sound
Fact Slam
Uncle Tony's best friend.
Worked for the

Wrecking Crew

, now works at

Mario Brothers Plumbing

.
Love his country.
Bio
Darnell is black and is Uncle Tony's best friend. He is first mentioned in Wrecking Crew, but first appeared in Nintendo's hit movie, Gone Fishin'. Darnell rarely gets in fights, but when he does he uses his fishing abilities to get out of those big messes.
History
Background
Darnell was born in Harlem, New York. He had a rough childhood, but bonded with his lifelong friend, Tony Mario over fishing. When they were kids, Darnell and Tony accidentally caused a 48 hour blackout all over New York.
Jamal
One of Darnell's many ladies gave birth to his son, Jamal. Things did not work out between Darnell and this lovely lady, but Darnell won custody of his son and was able to teach him all the important values.
Gone Fishin'
Darnell and Tony went down to the Everglades to go on a big fishing trip. However they were in for a big suprise, notorious fish criminal Dekker Massey was down there as well causing trouble. Through teamwork and friendship, Darnell and Tony defeated Dekker and got back to fishin'. I guess you could say good things come to those who bait!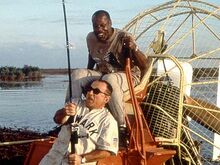 The Wrecking Crew
It is known Darnell worked for the Wrecking Crew when Tony and Papa Mario worked there. He quit sometime after the timelooping assassins tried to kill Papa Mario, in an attempt to retroactively erase Mario from existence.
Mario Bros. Plumbing
Darnell got a job at Mario Bros. Plumbing after Tony put a good word in for him. He does not do any jobs involving timeloops, but is one of the best employees they have. After working there for many years, he helped Jamal get a job there as well.
Personality
Darnell is funny, hardworking, and patriotic. He is not really a leader, and usually goes with whatever Uncle Tony and his other friends are doing. He is quite the outdoorsman, and enjoys all sorts of outdoor activities. He likes the great outdoors.
Abilities
Darnell is one of the most skilled fishermen in the world.
Gallery
Quotes
"This is gonna be a ten, ten plus, borderline eleven!"
"I like to fish!"
"Hey it's me, Darnell!"